Links to Other Astrology Sites
Here is our ever-growing list of astrology-related websites. Please select a category to begin, or use the search box to search our database.
349 listings (298 unique sites) currently in the database.
A Random Link from Our Collection: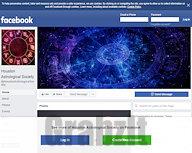 Houston Astrological Society
Category: Local Astrological Organizations
Houston, Texas, USA. An organization for the promotion, education and study of astrology. We are comprised of teachers, students, researchers and seekers. There are bi-monthly meetings including a guest speaker as well as information on classes, workshops and conferences.