Links to Other Astrology Sites
Here is our ever-growing list of astrology-related websites. Please select a category to begin, or use the search box to search our database.
384 listings (329 unique sites) currently in the database.
A Random Link from Our Collection: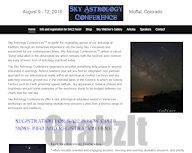 Sky Astrology Conference
Category: Astrological Conferences
August 09, 2018 - August 12, 2018
Moffat, Colorado, USA. Sky Astrology Conferences™ re-ignite the originating genius of our astrological tradition, through an immersive experience into the living Sky. Conceived and envisioned for our contemporary times, Sky Astrology Conferences™ deliver a robust, "living" education in the observable sky which remains both the bedrock and common ancestry of every form of astrology practiced today.