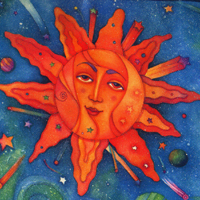 The upcoming Summer Solstice on June 21st (2019) marks the beginning of summer in the Northern Hemisphere. The Sun reaches its highest position in the sky, and this is the day with the longest period of daylight. Since ancient times, the Summer Solstice has been recognized as a significant time of year in many cultures. It has been celebrated with various rituals and festivals. We will have a Waning Gibbous Moon in Aquarius on this day that calls for introspection. We will be asked to turn inwards, think about our goals, and be grateful. The Sun will be in the free-flowing emotional sign of Cancer, so expect some emotional themes to re-surface.
In addition, we will have some very benefic aspects this day. The Aquarian Moon will form a trine with Venus. This can mean new beginnings in love. The Moon will also be sextile Jupiter, the great Benefic planet. This aspect is full of luck and good fortune.
The Summer Solstice is connected to your Solar Plexus Chakra. This chakra is known to be the core essence of your personality and identity. The best gemstones to use to open your solar chakra along with activating your full potential for the Summer Solstice would be citrine, tiger's eye, yellow jasper, amber, and those of a yellow and gold color.
What more specifically does the Summer Solstice mean for your Sun Sign? Let's take a look.
Aries: The Summer Solstice's significance for you will be in the house of family. This summer will consist of family bonding and activities. You may get invitations for family-related events, parties, and celebrations. Special events involving family are likely. Use this time to catch up with and bond with family members you may not see often. Enjoy your time together.
Taurus: The Summer Solstice occurs in your 3rd house. For Taurus, the emphasis is on gaining new skills, communications and networking. You will be meeting important new people who can influence your career. You may be studying for an important exam or for a work-related credential. Siblings may play a supportive role during this time.
Gemini: The emphasis here for Gemini is surrounding money and possessions. Geminis could be making a big purchase this summer. They may acquire something new of a material nature. It's a great time for Gemini to raise their earning ability. Gemini's side projects and/or business may pick up and they will see a substantial increase in earnings.
Cancer: The Summer Solstice will be especially important for Cancer. In fact, some born under this sign will be transforming their looks with makeovers, hair coloring and style. There is a special emphasis on focusing on your own individuality and projecting that image to the outside world. It is time for you to really shine and show the world your authentic self.
Leo: Leos will be taking time out for themselves. This could mean a special quiet getaway where they can rejuvenate and re-energize. There could be a low-key or sacred place Leo goes to. Leos will benefit from activities such as meditation, massage, and quiet reflection. It's a perfect time for Leos to retreat into their inner world and take some needed time out.
Virgo: Virgos will have an exciting summer in store! Emphasis is on friendships and close relationships. They will quickly find themselves the life of the party. Virgos will be like social butterflies with many social events on the calendar. This is a great time focus on your hopes, wishes, aims, and aspirations.
Libra: The Summer Solstice occurs in your 10th house. Libras will be recognized for a job well done within their career. They may also have great luck when it comes to promotion and climbing the corporate ladder. This Summer Solstice points to Libra's social rank soaring to new heights.
Scorpio: The Summer Solstice brings great adventure in for Scorpio. Scorpios may be going on a major trip this summer. This could be long-distance or abroad. If you don't actually go, you may find yourself planning for one in the not-so-distant future. There is special emphasis for Scorpio to advance their education and knowledge in areas such as philosophy, foreign language, education, law, and spirituality. Scorpios may meet someone significant from another culture or part of the world.
Sagittarius: Sagittarius may be going through a major transformation this summer. They may be ending one chapter in their life and staring a totally new one. There is also an emphasis on a partner's income or an inheritance. You could also receive a generous gift during this time.
Capricorn: There is a special emphasis on important partnerships and relationships for Capricorn. This could mean a love, work, or business partnership that will be committed and strong. If you are in an existing relationship, expect it to become more serious. If you meet someone new, expect them to be a committed partner.
Aquarius: Aquarians are being asked to be of service in some way this summer. They may find themselves volunteering for humanitarian causes or a cause that is close to their hearts. Achieving a good bill of health is also on the horizon. Aquarians are being told to look after their exercise and wellness regimen.
Pisces: Pisces has a fun and adventure-filled Summer coming up. Emphasis is on short trips and amusing company. Romance and love of a flirtatious nature are also in the air for Pisces. There is also an emphasis on children, so Pisces may find themselves a little more involved with children during this time.
This article copyright © 2019 Melody Ullah. All rights reserved. Reproduction without permission prohibited.