Links to Other Astrology Sites
Here is our ever-growing list of astrology-related websites. Please select a category to begin, or use the search box to search our database.
391 listings (340 unique sites) currently in the database.
A Random Link from Our Collection: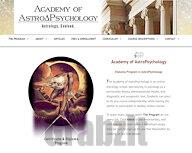 Academy of AstroPsychology
Category: Astrology Schools and Education
The Academy of AstroPsychology is an online astrology school specializing in astrology as a personality theory, developmental model, and diagnostic and prognostic tool. Students can elect to do any course independently while having the option to participate in weekly online classes.
Copyright © 1997-2021 Ed Perrone. All rights reserved.