Links to Other Astrology Sites
Here is our ever-growing list of astrology-related websites. Please select a category to begin, or use the search box to search our database.
360 listings (309 unique sites) currently in the database.
A Random Link from Our Collection: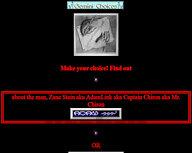 Gemini Choices (Zane B. Stein)
Category: Individual Astrologers' Sites
Zane Stein, aka AdamLink, aka Captain Chiron, aka Mr. Chiron. Zane Stein began studying Chiron only weeks after its discovery, and has come to be recognized as one of its leading experts. Lots of information about Chiron, as well as other topics.