Links to Other Astrology Sites
Here is our ever-growing list of astrology-related websites. Please select a category to begin, or use the search box to search our database.
387 listings (337 unique sites) currently in the database.
A Random Link from Our Collection: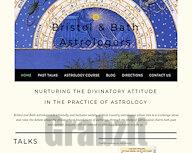 Bath Astrologers' Forum
Category: Local Astrological Organizations
Bath, United Kingdom. Bath Astrologers' Forum is a society of West Country astrologers whose aim is to exchange ideas and raise the debate about the philosophical foundations of astrology through the study of astrological charts both past and current. We hold talks and seminars regularly on the first Monday of every month at Waterfront House in Bath. Anyone with an interest in astrology is welcome to join us.
Copyright © 1997-2020 Ed Perrone. All rights reserved.