Links to Other Astrology Sites
Here is our ever-growing list of astrology-related websites. Please select a category to begin, or use the search box to search our database.
377 listings (326 unique sites) currently in the database.
A Random Link from Our Collection: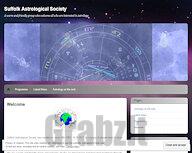 Suffolk Astrological Society
Category: Local Astrological Organizations
Suffolk, United Kingdom. We are a warm and friendly group and welcome all who are interested in astrology from beginners through to more experienced astrologers. Everyone is welcome, you don't have to be a member to attend our meetings! We meet on the first Wednesday of each month. Meetings will be held at The Friends Meeting House, St Johns Street, Bury St Edmunds, Suffolk IP33 1SJ
Copyright © 1997-2019 Ed Perrone. All rights reserved.