Links to Other Astrology Sites
Here is our ever-growing list of astrology-related websites. Please select a category to begin, or use the search box to search our database.
391 listings (340 unique sites) currently in the database.
A Random Link from Our Collection: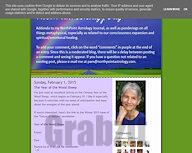 NorthPoint Astrology
Category: Astrology Blogs
Addenda to my NorthPoint Journal, as well as ponderings on all things astrological and metaphysical -- especially as related to our consciousness expansion and spiritual/emotional wholeness.To post a comment, click on the word "comment" in green at the end of the entry. Since this is a moderated blog, there will be a delay between posting a comment and seeing it appear. If you have a question not related to an existing post, please email me at pam@northpointastrology.com.
Copyright © 1997-2020 Ed Perrone. All rights reserved.