Links to Other Astrology Sites
Here is our ever-growing list of astrology-related websites. Please select a category to begin, or use the search box to search our database.
391 listings (340 unique sites) currently in the database.
A Random Link from Our Collection: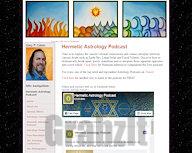 Commune with the Goddess, with Gary P. Caton
Category: Astrology Webcasts and Podcasts
Goddess Astrology Podcast is the first and only astrology podcast devoted to empowering the Sacred Feminine within you! Tune in to discover the power of The Goddess in the Archetypal journey of the planet Venus, the brightest star in the sky! Also track the Asteroid Goddesses Ceres, Vesta, Pallas and Juno.
Copyright © 1997-2020 Ed Perrone. All rights reserved.