Links to Other Astrology Sites
Here is our ever-growing list of astrology-related websites. Please select a category to begin, or use the search box to search our database.
392 listings (341 unique sites) currently in the database.
A Random Link from Our Collection: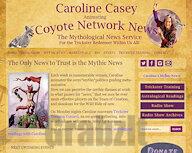 Coyote Network News (Caroline W. Casey)
Categories: Individual Astrologers' Sites, Other Astrology-Related Sites
Site of Caroline Casey, "dedicated to the wild blooming of the Compassionate Trickster Heart stirring within all of us everywhere and always and the cultivation of unique, empathic imaginative ingenuity which encourages this blooming!"
Copyright © 1997-2022 Ed Perrone. All rights reserved.