Links to Other Astrology Sites
Here is our ever-growing list of astrology-related websites. Please select a category to begin, or use the search box to search our database.
391 listings (340 unique sites) currently in the database.
A Random Link from Our Collection: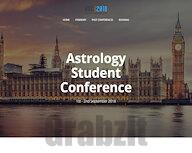 Astrology Student Conference
Category: Astrological Conferences
September 01, 2018 - September 02, 2018
London, United Kingdom. The London School of Astrology and The Mayo School of Astrology came together in 2008 to create a unique astrological weekend event: The Astrology Student Conference (ASC). This friendly, annual gathering brings together the very best speakers from around the world to lecture on their specialist areas. Our goal each year is to give students and practitioners of astrology – and anyone else interested in the art – a full and diverse programme of lectures and the chance to interact, network and mingle with students from various schools, the speakers and professional astrologers from our community.
Copyright © 1997-2021 Ed Perrone. All rights reserved.