Links to Upcoming Astrological Conferences
9 listings in this category
Displaying items 1 - 9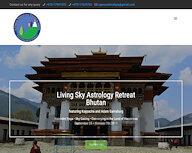 Living Sky Astrology Retreat 2019
September 25, 2019 - October 07, 2019
Multiple locations, Bhutan. Featuring Kaypacha and Adam Gainsburg. We'll be visiting the majestic and sacred sites of Bhutan, learning Buddhist Vedic astrology, Kaypacha's Evolutionary astrology, Adam's Soulsign astrology, Kundalini yoga, somatic meditations, alchemical star gazing, and quite a bit more!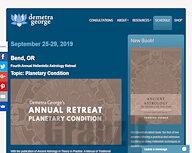 Fourth Annual Hellenistic Astrology Retreat, with Demetra George
September 25, 2019 - September 29, 2019
Bend, Oregon, USA. Topic: Planetary Condition. Demetra George is now offering a training program in the basic principles of Hellenistic Astrology, which will consist of three consecutive retreats: Planetary Condition, Delineating Houses, and Hellenistic Time Lords.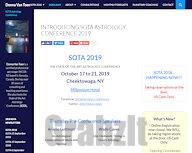 SOTA 2019 - The State of the Art Astrology Conference
October 17, 2019 - October 21, 2019
Cheektowaga, New York, USA. STATE OF THE ART ("SOTA") is an astrology conference geared to intermediate, advanced, and professional astrologers. As the title implies, its function is to illustrate the state of the art/discipline of astrology by featuring popular speakers and hot topics that exemplify leading-edge thought and techniques.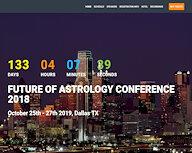 Future of Astrology Conference 2019
October 25, 2019 - October 27, 2019
Dallas, Texas, USA. The theme of this conference is to explore where astrology is going in the future based on the past. With Joni Patry, Edith Hathaway, Ronnie Gale Dreyer, and more.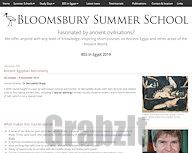 Ancient Egyptian Astronomy
October 28, 2019 - November 04, 2019
Luxor, Egypt. A new course taught in Luxor by well-known cultural astronomer, Dr. Bernadette Brady, with daily lectures and related visits to fascinating ancient sites, including 3 "special openings" of sites usually closed to visitors, and a visit to the tomb of Seti I which is on a special ticket.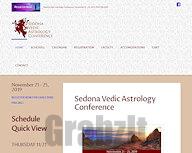 Sedona Vedic Astrology Conference
November 21, 2019 - November 25, 2019
Sedona, Arizona, USA. On behalf of the SVAC faculty and staff, we would like to invite you to the Sedona Vedic Astrology Conference to be held at the Poco Diablo Resort in beautiful Sedona, Arizona! Come and explore the ancient Vedic Sciences of wisdom and their application to the modern Western world as we learn to walk the mystical path with practical feet.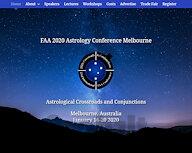 FAA 2020 Astrology Conference Melbourne
January 16, 2020 - January 20, 2020
Melbourne, Australia. "Astrological Crossroads and Conjunctions." Brian Clark and Glennys Lawton, co-convenors of the 2020 conference, invite you to join us in Melbourne, the art and cultural capital of Australia, for another magical celebration of astrology.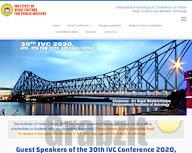 IVC Astrology Conference 2020
February 04, 2020 - February 09, 2020
Kolkata, India. 30th IVC Conference: "Indian Vedic Culture and Western Astrology." It is with great pleasure that the Institute for Vedic Culture (IVC) and the Krishnamurti Institute of Astrology (KIA) announce that their 30th International Astrological Conference will be held from 4th to 9th Febrayry 2020 in Kolkata, India.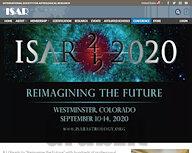 ISAR Conference 2020: Reimagining the Future
September 10, 2020 - September 14, 2020
Westminster, Colorado, USA. The conference theme pertains to three long-term cycles related to the Jupiter/Saturn conjunction taking place December 17-21, 2020, in 0° Aquarius. This powerful cosmic event occurs at the same time the Sun crosses the Galactic Center. Jupiter and Saturn leaving Capricorn (sign of tradition and conventional thought) for Aquarius (sign of a new frontier in thinking and communications) symbolizes a giant leap into the future for humanity.
Copyright © 1997-2019 Ed Perrone. All rights reserved.