Links to Upcoming Astrological Conferences
6 listings in this category
Displaying items 1 - 6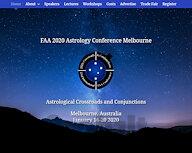 FAA 2020 Astrology Conference Melbourne
January 16, 2020 - January 20, 2020
Melbourne, Australia. "Astrological Crossroads and Conjunctions." Brian Clark and Glennys Lawton, co-convenors of the 2020 conference, invite you to join us in Melbourne, the art and cultural capital of Australia, for another magical celebration of astrology.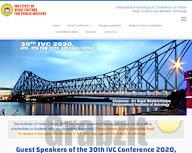 IVC Astrology Conference 2020
February 04, 2020 - February 09, 2020
Kolkata, India. 30th IVC Conference: "Indian Vedic Culture and Western Astrology." It is with great pleasure that the Institute for Vedic Culture (IVC) and the Krishnamurti Institute of Astrology (KIA) announce that their 30th International Astrological Conference will be held from 4th to 9th Febrayry 2020 in Kolkata, India.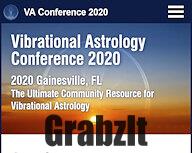 Vibrational Astrology Conference 2020
March 27, 2020 - March 30, 2020
Gainesville, Florida, USA. The ultimate community resource for Vibrational Astrology. This conference opens the door to a new world of astrology! Come join us! Whether you are new to Vibrational Astrology or a practicing Vibrational Astrologer, be prepared for a journey into the astrology of the future.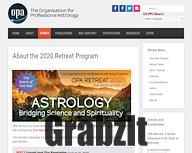 OPA Retreat 2020
April 23, 2020 - April 29, 2020
Zion, Utah, USA. The Organization for Professional Astrology (OPA) will host its forthcoming Astrology Retreat on April 23-26, 2020 (Part I), and April 27-29 (Part II), at the mesmerizing Zion National Park, in Utah. This retreat is designed for all levels of expertise, from beginners in astrology to professional practitioners. Part I: Expand your Star Knowledge. Part II: Take your Astrology Practice to the Next Level. Much more information at the website.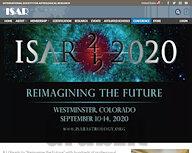 ISAR Conference 2020: Reimagining the Future
September 10, 2020 - September 14, 2020
Westminster, Colorado, USA. The conference theme pertains to three long-term cycles related to the Jupiter/Saturn conjunction taking place December 17-21, 2020, in 0° Aquarius. This powerful cosmic event occurs at the same time the Sun crosses the Galactic Center. Jupiter and Saturn leaving Capricorn (sign of tradition and conventional thought) for Aquarius (sign of a new frontier in thinking and communications) symbolizes a giant leap into the future for humanity.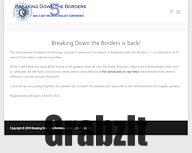 Breaking Down the Borders 5
November 06, 2020 - November 08, 2020
The International Academy of Astrology is proud to announce the launch of Breaking Down the Borders 5 — a celebration of 10 years of live major conferencing online. BDTB-5 will follow the usual BDTB format of 48 speakers from all over the world, live over 3 days from 6-8 November 2020. And to celebrate, we will have a brand new, never-before-done feature of live simulcasts in real time: live seminars from several different countries around the world! Visit the website for the most-updated speaker and registration information.
Copyright © 1997-2020 Ed Perrone. All rights reserved.