Links to Other Astrology Sites
Here is our ever-growing list of astrology-related websites. Please select a category to begin, or use the search box to search our database.
372 listings (321 unique sites) currently in the database.
A Random Link from Our Collection: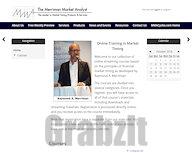 Merriman Market Timing Academy
Categories: Astrology Schools and Education, Financial Astrology Sites
The Merriman Market Timing Academy (MMTA) is the first in-depth training program ever offered on the subject of financial market timing. This Academy is designed to provide a truly unique and rare opportunity -- a "once in a lifetime" opportunity -- to learn the methodology of market timing as developed by Raymond A. Merriman, Commodities Trading Advisor (C.T.A.), and President of the Merriman Market Analyst, Inc., since 1981.