Links to Other Astrology Sites
Here is our ever-growing list of astrology-related websites. Please select a category to begin, or use the search box to search our database.
387 listings (337 unique sites) currently in the database.
A Random Link from Our Collection: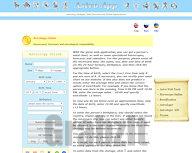 Astro App
Category: Astrology Software and Calculations
Online calculations, rectifications, multifunctional application, astro web tools, and more.
Copyright © 1997-2020 Ed Perrone. All rights reserved.