Links to Other Astrology Sites
Here is our ever-growing list of astrology-related websites. Please select a category to begin, or use the search box to search our database.
391 listings (340 unique sites) currently in the database.
A Random Link from Our Collection: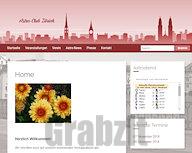 Astro-Club Zürich
Category: Local Astrological Organizations
Zurich, Switzerland. Der ASTRO-CLUB ZÜRICH setzt sich zum Ziel, den an Astrologie Interessierten eine Möglichkeit zum Gedankenaustausch und zur Weiterbildung anzubieten. Dabei ist der Verein an keine bestimmte astrologische Schule oder Betrachtungsweise gebunden. Gerade die Vielfältigkeit der Herkunft des astrologischen Wissens unserer Vereinsmitglieder führt zu interessanten Diskussionen. Das astrologische Wissensspektrum unserer Mitglieder reicht von Anfänger/-innen bis zu professionellen Berater/-innen.
Copyright © 1997-2021 Ed Perrone. All rights reserved.