Links to Other Astrology Sites
Here is our ever-growing list of astrology-related websites. Please select a category to begin, or use the search box to search our database.
382 listings (332 unique sites) currently in the database.
A Random Link from Our Collection: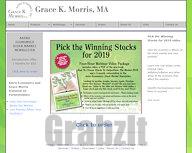 Outperform the Market: Pick the Winning Stocks in 2014
Category: Astrological Conferences
September 14, 2013 - September 14, 2013
Chicago, Illinois, USA. One-Day workshop presented by Grace K. Morris, M.A. Learn the techniques of picking winning stocks and sectors. View the economy's effects on the stock market and your portfolio. Learn how real estate cycles, interest rates, deflation/inflation and other areas of the economy that affect the markets. And more.
Copyright © 1997-2019 Ed Perrone. All rights reserved.