Links to Other Astrology Sites
Here is our ever-growing list of astrology-related websites. Please select a category to begin, or use the search box to search our database.
376 listings (323 unique sites) currently in the database.
A Random Link from Our Collection: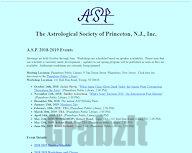 Astrological Society of Princeton
Category: Local Astrological Organizations
Princeton, New Jersey, USA. The Astrological Society of Princeton was founded in 1972 to provide opportunities for the advancement of astrology by means of regular meetings, lectures, classes, and publications. Currently, the Society holds regular monthly meetings, bringing to the Princeton area a variety of nationally and internationally known speakers. An active educational program offers classes and workshops given by the faculty of A.S.P. and by distinguished guests.