Links to Other Astrology Sites
Here is our ever-growing list of astrology-related websites. Please select a category to begin, or use the search box to search our database.
380 listings (327 unique sites) currently in the database.
A Random Link from Our Collection: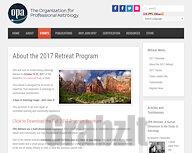 OPA 8th Annual Professional Astrology Retreat
Category: Astrological Conferences
November 03, 2011 - November 06, 2011
Myrtle Beach, South Carolina, USA. Sponsored by the Organization for Professional Astrology. This retreat is designed for the professional development of beginning through advanced students and astrologers.